Holy Trinity Anglican Church seeks to makes JESUS Christ known through her worship and we believe our worship of Almighty God: the Father, the Son and the Holy Spirit is our highest priority, privilege and blessing. We love to worship God and acknowledge his presence with us through:
The fellowship of the gathered community
The proclamation of God's holy Word.
The celebration and administration of his holy Sacraments

Baptism, Eucharist, Anointing for Healing.

In our being sent forth to make JESUS Christ and his holy Gospel known in all the world.
We worship God in the great tradition of his Church:
Our preaching and teaching is firmly grounded in God's holy Word, we believe his Word is living and true for every generation;
We place a strong emphasis on the presence of the Lord in his holy Sacraments through which we share in the life of JESUS Christ and he in us;
We employ the best of the choral musical tradition of the Church;
We join our worship, voices and prayers to that of the Church in every age through time tested liturgy, the use of signs and symbols, chanting, incense, bells, etc. This is truly the best of evangelical preaching and Catholic worship in the ancient Church for today's world. We seek to share the Good News of JESUS Christ in love through our worship and ministry.
Holy Trinity Anglican Church, Marlborough, MA is a traditional Christian community with emphasis on: Worship in the great tradition, evangelism, outreach, discipleship and local and global mission.
Our preaching and teaching is firmly grounded in the holy Bible as God's Word.
Our worship is liturgical and sacramental. We believe God is present to us in a special way through fellowship (i.e., the gathering of the Christian community for worship), the proclamation of his holy Word, the celebration and administration of his holy Sacraments (e.g., holy Baptism and holy Eucharist) and through our ministry to others in the Name of Jesus.
We attempt to offer the very best of the evangelical, charismatic and catholic streams merging them into a flowing river as experienced in the ancient Church.
We believe that we are called to love and worship God with all of heart, soul, mind and strength and to love our neighbors as ourselves.
Most of all, we are called to make Jesus Christ known in the hearts and lives of our people and all whom we come into contact with and minister to. Jesus Christ is Life and Salvation for all who know him and are known by him. Come to know Jesus through a wonderful and loving church community, his life-giving Word and Gospel, his holy Sacraments and through our several ministries.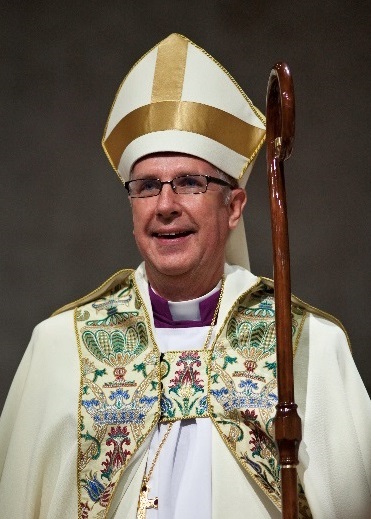 The Right Reverend Charles Masters Diocesan Bishop and Moderator
Charlie was consecrated a bishop in the Church of God on 13 November 2009 in St Catharines Ontario and became Area Bishop for Ontario and Eastern Canada. In November 2012, he was elected coadjutor bishop and succeeded Bishop Donald Harvey as diocesan bishop on 29 June 2014. He also serves the Anglican Church in North America as a member of the Archbishop's cabinet.
Until 1 June 2008 when he became ANiC's national director, Charlie was rector of St George's Lowville in the Diocese of Niagara - a parish he served for most of his ministry. Evangelism is Charlie's passion and the thrust of a booklet he authored, "The Gospel Still Works." Charlie and Judy make their home in Milton, Ontario and are the proud parents of two adult children and enthusiastic grandparents.
---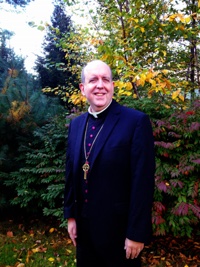 The Venerable Michael J. McKinnon ("Fr. Michael") was born and raised in Connecticut. He earned a Bachelor of Arts Degree in Religion and History from Central Connecticut State University in 1991, a Diploma of Anglican Studies from Berkeley Divinity School at Yale in 1994 (CT), a Master of Divinity Degree from Yale University in 1994 (CT) and a Master of Sacred Theology Degree from Nashotah House Seminary in 1997 (WI). He is presently pursuing a Doctor of Worship Studies Degree from the Robert E. Webber Institute for Worship Studies (FL). Fr. Michael was ordained a Deacon on July 9, 1995 and a Priest on December 4, 1996.
Fr. Michael & Christine married in 2002. They have two beautiful girls, Sarah and Rebecca. Fr. Michael and his family reside in Marlborough, MA. Fr. Michael proudly serves as Chaplain for the Marlborough Fire Department.
In October of 2004, Fr. Michael came to Marlborough, MA to serve as Rector of the (Episcopal) Church of the Holy Trinity. On November 1, 2007, the Holy Trinity church family affiliated with the Anglican Mission in America and a new church was born: Holy Trinity Anglican Church, Marlborough, MA. In October 2009, the church transferred to the Diocese of the Anglican Network in Canada (and New England), a Diocese of the Province of the Anglican Church in North America (ACNA).
On Sunday, August 15, 2010 Fr. Michael was appointed Archdeacon in New England. The Anglican Archdeaconry in New England now has congregations in Marlborough, MA; Medway, MA; Attleboro, MA; Melrose, MA and Rutland, VT.
Fr. Michael describes himself as an "evangelical Catholic" who is fully committed to "The Principle of the English Reformation"; i.e., "To restore the Church in every age to the Faith and Order of the ancient Catholic Church (with an emphasis on the first five Christian centuries) under the authority and primacy of the Holy Bible as God's Word".
In addition to God, his family and his local church family, Fr. Michael loves spending time in Maine, the Christmas Season, Christmas music (all year long), Elvis Presley, Classic Rock (especially, The DOORS), Star Trek (TOS) and other classic Sci-fi shows.
---

Reverend Father Robert C. Cummins, Ph.D.: "Father Bob" grew up in New York City. His mother was Roman Catholic; his father was Methodist. He was educated by the Jesuits at Xavier High School. He holds a B.A. in Philosophy from Yale, and an M.A. and a Ph.D. in Clinical Psychology from Long Island University. He moved to Massachusetts in 1982 for an Internship at Massachusetts General Hospital. He has been a practicing psychologist for over 30 years. He was received into the Episcopal Church in 1986, at The Church of the Advent, in Boston. He became a member of Holy Trinity Anglican Church in 2008. He was ordained a Deacon in 2013, and a Priest in 2014. He resides in Still River, Massachusetts, with his wife, Karen Panasevich-Cummins.
---

Deacon Rhonda Cotton has been a member of HTAC since its inception on November 1, 2007 and was a member of the Church of the Holy Trinity at 116 Union Street before that. She was ordained to the diaconate on March 7, 2010 by Bishop Donald Harvey. Dcn. Rhonda serves as the head of our healing ministry and organizes visits to the sick. Rhonda and her husband Tom have three children Nick, Aly and Kendall. They live in Harvard, MA. Rhonda has a BA in Physics and an MA in Electrical Engineering and a degree in human services.
---

Deacon Suzy Kenyon was ordained September 17, 2011 by the Right Reverend Donald F. Harvey. She has a background in social work, with a Master of Social Work degree from Simmons College. Her practice as a clinical social worker has been primarily hospital-based, with adults and elders suffering from mental illness and/or substance abuse, and their families. Deacon Suzy's coordinates our mission to Our Father's Table, a Marlborough, MA organization that provides meals to those in need. She and her husband, Mike, live in Wayland, Massachusetts. They have three married children, Katherine, Allison, and Christopher.
---

Deacon Praveen Mutalik grew up in India, he came to the United States to pursue higher education in Computer Science. He currently works at a high tech company in Cambridge MA as a software engineer. He was ordained a deacon by Bishop Charlie Masters at Holy Trinity Anglican Church. Dcn. Praveen and his wife Karen live in Southborough MA with their 5 dogs and several birds.

---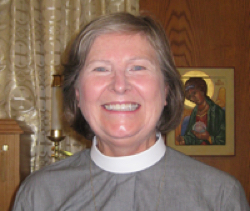 The Reverend Deacon Patricia Brewin was born in Toronto, Ontario, Canada on April 1, 1954. She is a graduate of Royal York Collegiate, Etobicoke, Ontario. Patricia is a mother of four, and a grandmother of five. Being a mother she enjoys her family, and is an author of a Book published in 2011; The Diary of A Christian, The Evangelism of a Soul, and Other Life Lessons. She was Ordained a Permanent Deacon in the Anglican Church in April 2017, by The Right Reverend Bishop Donald Harvey, Bishop Emeritus in the Anglican Network in Canada.
Worship, Bible Study & Christian Education at HTAC
Sunday:  8:00 a.m. Low Mass (First Sunday of the month only)
Sunday:  9:00 a.m. Morning Prayer
Sunday: 10:00 a.m. High or Sung Mass
Sunday:  11:30 a.m. Fellowship (light lunch)
Sunday:  12 Noon Adult & Children's Christian Education Hour
Sunday:  5:00 p.m. Choral Evensong (TBA...offered on special Feasts Days of the year)
Wednesday: 10:00 a.m. Bible Study
Wednesday:  11:30 a.m. Low Mass
Wednesday: 7:30 p.m. Sung Mass (or Liturgy of the Pre-sanctified)
Friday:  7:00 p.m. Stations of the Cross (Lent only)
Saturday: 6:30 p.m. Third Saturday Healing Prayer Service (coming soon)
Worship on Special Occasions (e.g., Easter, Christmas, Lent, Holy Week, etc.)
Evangelism & Outreach

Summer Lunch Program (feeding the children of the French Hill Neighborhood for nine weeks during the summer months)
Winter Coat, Glove and Scarf Distribution (helping those in need of warm clothing during the cold New England winter months)
Our Father's Table (helping to feed the hungry of Marlborough...this will remain a ministry of HTAC until the start of June's Table...please see below)
Monday Cafe' (coffee and muffins on Mondays from 10:00 a.m. thru 12 Noon - coming soon)
June's Table (feeding the hungry in the French Hill Neighborhood & beyond every Saturday - coming soon)
Vacation Bible School (a summer week filled with faith, fun and fellowship for children and youth of HTAC, the French Hill Neighborhood & beyond)
Alcoholics Anonymous (every Friday beginning at 7:00 p.m.)
We are a proud sponsor of the Boy Scouts of America
Thanksgiving Day Family Dinner (1:00 p.m. for persons of HTAC, the French Hill Neighborhood & the local Recovery Houses and Shelters of Marlborough and Hudson)
Prayer Walks every Wednesday afternoon (weather permitting: greeting, praying with and saying hello to our immediate neighbors and offering a gift bag)
Grief, Divorce and other Support Groups (to meet on Tuesday evenings - coming soon)
Anglicans for Life (promoting the sanctity of all human life from conception in the womb to natural death according to the holy Scriptures and the ancient Christian Faith)
A weekly Worship Service for persons and families who have or care for persons with Alzheimers and dementia (tbd)
An active outreach ministry in the local recovery houses
Caregiver Support for those caring for the aged (Website)  
 
Dementia & Alzheimers Support in Marlborough (Website)
Discipleship

Adult & Children's Christian Education (Sundays and during the week)
10:00 a.m. Weekly Bible Study on Wednesdays
Church Growth & Discipleship Group (sharing fellowship, breakfast and ideas regarding church fellowship, growth and discipleship – meeting monthly)
Please see above and below for other opportunities.
Mission

St. Mary's Anglican Church, Kumasi, Ghana (our sister congregation)
Missionary to East Asia (we support a young woman who ministers in a very dangerous part of East Asia sharing the Good News of JESUS!)
The Bishop Donald & Trudy Harvey Legacy Fund (helping children's ministries in our diocese and beyond)
Helping to bring Young Life (for High School age persons) and Wyldlife (for Middle School age persons) to Marlborough and Hudson, MA
Men

Men's Group (breakfast, fellowship and topical discussion...meeting monthly)
Women

Women's Group (coffee/tea, fellowship and topical discussion...meeting monthly)
Children/Youth

Altar Servers (open to both adults and youth)
Children's Sunday Christian Education (Catechesis of the Good Shepherd)
Wyldlife Club (meeting monthly for middle-schoolers in Marlborough/Hudson and beyond...HTAC is a proud contributor and founding member of this ministry in Marlborough/Hudson)
Young Life Club (meeting monthly for high schoolers in Marlborough/Hudson and beyond...coming soon!)
Vacation Bible School (meeting one week every summer...please see above)
St. Michael's Conference (a week long Youth Conference in the "high church Anglican tradition", typically meeting the first week in August)
Wyldlife & Young Life Camp (camps for middle and high schoolers meeting in mid-August and October)
Prayer & Healing

Prayer Chain
Healing & Prayer Ministry
Visiting the sick and homebound (offering prayer, fellowship, the Gospel, absolution, anointing and prayer for healing and holy communion)
Other

Shepherding Ministry (persons of the church family reaching out to other members of the church family...strengthening family ties and seeking the lost members)
Adult Choir (rehearsals every other Tuesday and Sunday mornings)
Altar Guild
Adult & Youth Servers
Chalice-bearers
Lectors
Greeters
Hospitality (11:30 a.m. on Sundays...light lunch)
Second Saturday (all are invited to help work on the church buildings and grounds)
Bi-monthly Newsletter
Website
Evangelical Pastors' Group John 17:21 (meeting twice a month at HTAC for fellowship, prayer and Scripture reading)